Hastings to Pett Beach SSSI - Section 3
Coastal Section: Fairlight Cove
Sussex RIGS number: TQ81/18

Forms part of Hastings Cliffs to Pett Beach SSSI designated for its geological and biodiversity value (Site Code 1000193)

Forms part of Hastings to Pett Level Geological Conservation Review (GCR) Site
Block: Wealden (Site Code 2725)
Forms part of Hastings Geological Conservation Review (GCR) Site
Block: Jurassic-Cretaceous Reptilia (Site Code 918)
Block: Mesozoic-Tertiary Fish/Amphibia (Potential Site)
Grid Reference: TQ880119 to TQ886125
Click locations on map to view photos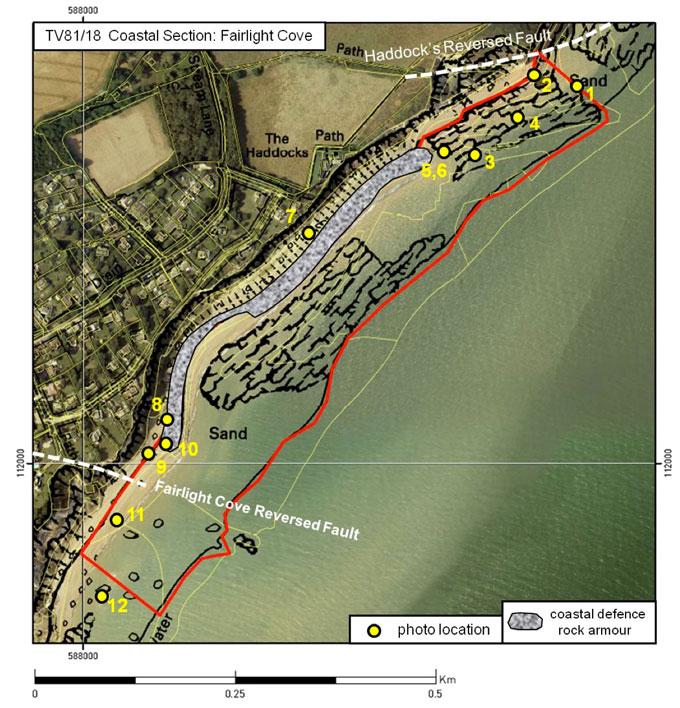 Site access:
Access is from Pett Beach where there is a small car park and parking by the road.

Fairlight Cove is accessed by walking westwards along the foreshore from Cliff End. This should only be attempted on a falling tide as the Cove is a 1-2km walk, and the tides come up to the cliffs.

The cliff sections are easily visible, although the lower beds are now obscured by rockfalls and shingle as a result of the rock defence. Access is limited by the height of the cliffs and potential rockfalls. Extreme care should be taken if approaching cliffs.

The wave cut platform access is limited by tides and rock armour and shingle cover. Only a small part is visible at present
Summary description 24/08/2011
(from East Sussex RIGS Survey 2011)
RIGS Designation Details:
Stratigraphy:
the cliffs expose Ashdown Formation (including the 'Fairlight' facies) of the Hastings Group of the Lower Cretaceous. The sediments are interpreted as having been laid down in an environment of a meander plain, coastal braid plain and fan-delta.
Sedimentology:
There are 300ft of rapidly alternating mottled clay, white, yellow and deeply ferruginous sandstone, grey and carbonaceous clays and silts together with lignite seams and pockets of 'Fairlight' facies of mottled silty sphaerosideritic clays. These deposits show rhythmic alternations in grain size.
Sedimentary structures:
The cliffs show channel fill deposits and on the wavecut platform on the foreshore trough cross bedding was visible. Since the rock armour was deposited in Fairlight Cove, the foreshore deposits have been covered with shingle and sand.
Palaeontology:
Lignite seams, plants, insect remains (TQ880117) ostracods, have been found, and reptiles are present. Dinosaur footprints have been found from time to time along this part of the coast.
Structural geology:
Haddock's reverse fault is clearly visible at TQ880119 and a recent slump has made it more visible for a greater length. The build up of shingle caused by the rock armour means it is possible to approach closer.
Geomorphology:
These coastal cliffs are subject to active erosion with land-slips, cliff falls and mud flows. An attempt has been made to reduce erosion by deposition of larvikite rock defence which is slowing the removal of rockfalls by the sea.
SSSI:
This site is an SSSI for both geological and biological reasons. The beach and clifftop flora are of great importance, and shingle vegetation is colonising the new shingle banked up behind the rock defence.
Educational value:
This site is of great educational and scientific importance. This section of cliffs is part of the type section for the Hastings Formation Group, in particular the local facies variation Fairlight Clay which is part of the Ashdown Formation. The Fairlight facies is of local value as a stratigraphic marker. The site is important for palaeontological research. The site has been important for demonstrating coastal erosion, land-slips and mud-flows although the recently emplaced rock defence has reduced the importance of this aspect. The rock defence (Larvikite from Norway) has reduced accessibility and visibility of the lower beds by allowing a build up of rockfall, and the foreshore is covered by shingle and rock armour, however this may be exposed again at some time in the future. The smooth face of Haddock's fault is visible for at least 20m. The build up of shingle may mean a higher level is now accessible but future rockfalls may not be so quickly removed by the sea. Suitable for large parties (but see Safety aspects below).
SSSI Reasons for Notification - extracts specific to Fairlight Cove:
Preserved in the Wealden strata below Fairlight Cliffs there are in situ tree stumps, the only recorded examples of such stumps in British strata of this age. They probably belong to the now extinct family of tree-ferns, the Tempskyaceae.
The Fairlight Cliffs also have a unique Lower Cretaceous mammal fauna. Rare specimens of both therian and prototherian mammals occur. The site is remarkable for yielding teeth of Aegialodon dawsoni, a form close to the ancestry of modern therian mammals. It is one of a handful of localities in the world to have yielded early Cretaceous mammal remains.
At Fairlight two coastal sections expose representatives of the complex pattern of faults which cut the Lower Cretaceous rocks cropping out in East Sussex. Here the rocks are involved in a gentle crustal upfold, the Weald Anticline, which dominates the geological structure of south eastern England. At these localities two reverse faults cut the strata, the Haddocks and Fairlight Cove faults. Both are orientated WNW to ESE and are inclined steeply to the SSW. The displacements on these faults are substantial, being in the order of 50 metres downthrow to the NNE in each case. These faults are considered to be the surface expression of deep seated faults over which the Weald Anticline developed as a result of crustal compression during the Tertiary at the time of the Alpine mountain building episode (orogeny).
(For more information see separate site description for Hastings Cliffs to Pett Beach SSSI)
GCR Site Account - edited extracts specific to Fairlight Cove site:
Block: Wealden (Site Code 2725)
The sand bodies include erosionally based trough cross-bedded units of widely variable size, some floored by lag-conglomerate. Occasionally they are seen to fill channels up to 10 m deep for example near Haddock's Cottages (TQ882122). One conspicuous laterally accreted unit (c. 10 m thick) is traceable for about 500 m north-east of the Fairlight Cove Reversed Fault (TQ881120). Termed the Haddock's Rough Unit, it comprises laminated fine sand and bioturbated silts and muds. The base is an intraformational conglomerate with lignite fragments that lies on an erosion surface cutting down into thinner-bedded sands and muds. Synaeresis or desiccation cracks are evident and a possible freshwater dinocyst assemblage has been discovered.
Up to about 27 m of Wadhurst strata are preserved north-east of Fairlight Cove (TQ 885125). The basal 1-3 m comprise 'typical' Wadhurst dark shaly mudstone and siltstone with ostracods (Cypridea spp), occasional burrows (Beaconites ssp.) and early-diagenetic concretionary siderite in the upper part. Loose pieces of the tree-fern Tempskya schimperi have been identified, all presumably fallen from below (and perhaps from within) the Cliff End Sandstone Member. Interestingly this material is always silicified. The beds are rich in palynomorphs (notably Classopollis pollen.
Extracted from Radley, D.J. and Allen, P. 2012. The Wealden (non-marine Lower Cretaceous) of the Weald Sub-basin, southern England. Proceedings of the Geologists' Association 123, 245-318.
GCR Site Account - extracts:
Block: Jurassic-Cretaceous Reptilia (Site Code 918)
The Early Cretaceous sandstones and shales that outcrop along the coast and foreshore east of Hastings have been famous for 150 years for specimens of dinosaurs, crocodilians, turtles and footprints.
The most varied faunas of Early Cretaceous dinosaurs are known from the Wealden of Europe. One of the best of these faunas is from the Hastings Beds in their type area and the fossils include skeletons and footprints. Moreover, this is the only extensive, eroding coastal setting in these non-marine strata, which therefore has considerable potential for future finds. Previous finds include a selection of terrestrial and aquatic reptiles - two genera of turtles, four genera of crocodilians, one genus of theropod, two of sauropods, three of ornithischians, one genus of pterosaur and one plesiosaur.
(Fairlight Cove to Cliff End): Turtles, crocodilians, dinosaurs and dinosaur footprints are recorded. Source horizons are the 'Ashdown Sands' and the 'Fairlight Clays' (upper and lower portions of the Ashdown Beds respectively. In general bones and footprints may be found anywhere along the section where there is fresh exposure.
Extracted from the Geological Conservation Review
Volume 39: Fossil Reptiles of Great Britain (1995)
(See also site descriptions for Cliff End and Foul Ness Local Geological Sites and separate site description for Hastings Cliffs to Pett Beach SSSI)
GCR Potential Site Account - edited extracts:
Block: Mesozoic-Tertiary Fish/Amphibia
The Early Cretaceous sandstones and shales that crop out along the East Sussex coast and foreshore east of Hastings have been famous for 100 years for specimens of fossil selachians and bony fishes.
Most of the fossil fish finds have been made from the Wadhurst Clay at Hastings, East Cliff and Cliff End.
Some remains, including specimens of Lepidotes spp. and Hybodus spp. Have also been found in the Ashdown Beds exposed in the cliffs at Fairlight Cove.
Extracted from the Geological Conservation Review
Volume 16: Fossil Fishes of Great Britain (1999)
(See also site descriptions for Cliff End and Foul Ness Local Geological Sites and separate site description for Hastings Cliffs to Pett Beach SSSI)
« Site Overview
« Previous Section | Next Section »


:Link to this page
Copyright Sussex Biodiversity Records Centre © 2022